#3 LSU Tigers Host the Washington Huskies Saturday 6:00 ESPN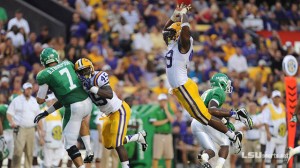 Those who know college football say that the most improvement happens from week one to week two.  That makes sense because a team gets its first chance to play against another team and not just to scrimmage each other as is done in the spring and in fall practice.  
The Tigers now have 1st game mistakes out of the way and are more accustomed to playing at real game speed.  Zach Mettenberger got his feet wet against North Texas last Saturday in his first start as a division 1 college football quarterback and first start as a tiger.  Several newcomers  like Deion Jones, Kwon Alexander, Jalen Mills, Jalen Collins saw their first view of tiger stadium as well.  I look to see tremendous improvement from the veterans and the newcomers this week against a pass happy Washington husky team.  The defensive backs both the veterans and the young freshman will be tested early and often.  Improvement in the offensive line, quarterback play, defensive line, and linebackers should be clear.
The Washington huskies (1-0, 0-0 PAC 12) were less than impressive in their opener against San Diego State.  Junior quarterback Keith Price threw for 213 yards, 1 touchdown, and 0 interceptions last week in the huskies 21-12 victory.  Price has also thrown for 3,440 yards, 36 touchdowns, and 11 interceptions in his career.  Sophomore wide receiver Kasen Williams led the huskies in receiving yards with 6 catches for 75 yards and 1 touchdown while sophomore tight end Austin Seferian Jenkins caught 8 passes for 73 yards.  Sophomore running back Bishop Sankey gained 66 yards on 22 carries and had 1 touchdown.
The Husky defense is not expected to rank highly in the Pac-12 or in the nation this year.  I expect the tigers offense to put up 30 or 40 points even considering Washington to be a step up in class compared to North Texas.