Lets take a Look at the 2012 LSU Offense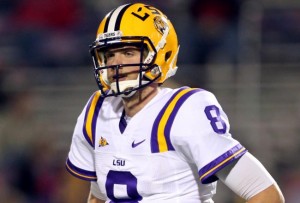 Perhaps the most interesting aspect of the 2012 LSU football team lies with a new offense which aims to be much more 2 dimensional than last years.  That argument begins at quarterback with Zach Mettenberger.  Zach originally signed with the University of Georgia in 2009  but was booted out of Athens after an infamous bar incident.  He then played a year of Junior college ball at Butler Community College in El Dorado, Kansas before transferring to LSU.  When Zach was coming out of high school at Oconee County High in Watkinsville, Georgia he was rated as the #11 ranked pro style quarterback in the country.  When he left Butler he was rated as the #1 junior college quarterback in the country.  Zach has no experience as a tiger other than some mop up duty situations but the expectations are sky high especially because of an impressive performance in the spring football game and word of mouth from practice reports.
On the receiving end Zach's top target will most likely be Odell Beckham Jr. who had an explosive freshman campaign and looks to improve upon last year since he is expected to be the " go to" receiver for the tigers in 2012.  There is plenty of talent else where as Russell Shepard is back for his senior year.  Jarvis Landry is a sophomore who exceled at special teams as a freshman but was a very high rated wide receiver coming out of Lutcher high school.  James Wright is probably the 4th receiver expected to contribute heavily this season.
Nic Jacobs has made some noise this spring and during fall camp as someone who could be relied upon to give the tiger offense an extra weapon at Tight End.  Chase Clement returns and so does Tyler Edwards.
To say the tigers are loaded at the running back position may be an understatement.  LSU has a major weapon who will help in making room for the running backs in junior full back J.C. Copeland.  The running backs can also take comfort in the fact that they will be protected by perhaps the greatest offensive line the tiger nation has ever seen in guards Josh Dworaczyk, La'el Collins, and Josh Williford.  The offensive tackles should include guys like Chris Faulk, Alex Hurst, and an incoming freshman who could add some depth in Vadal Alexander.
The running backs who will share carries are Alfred Blue, Michael Ford, Kenny Hilliard, Spencer Ware, Jeremy Hill, and Terrence Magee.
The 2012 LSU offense needs to be 2 dimensional this year if the tigers are going to make a significant run at the National Championship in Miami come January.  The tigers are stocked deep with talent and potential at most of the key positions.