LSU Tigers Open with a 41-14 Win Over the North Texas Mean Green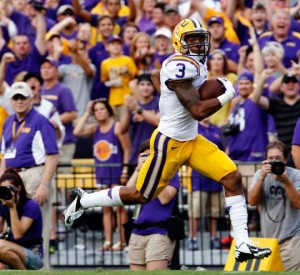 The real hero for LSU's opening contest against North Texas was the tiger running backs.  Kenny Hilliard and Alfred Blue broke the 100 yard mark in a season opening victory at tiger stadium Saturday night.  Hilliard ran for 141 yards on 13 carries an average of  almost 11 yards per carry while Alfred Blue contributed 123 yards on 16 carries nearly 8 yards per carry.
Zach Mettenberger's debut was not super exciting but he certainly showed he could lead the offense and showed some heart in coming back from a vicious blind side sack in the first quarter.  He did complete 19 of 26 passes for 192 yard and one touchdown to Kadron Boone.
Jarvis Landry was the top receiver for the tigers with 8 catches for 82 yards while Odell Beckham Jr. added 3 catches for 30 yards.
The tigers finished with 508 yards total offense.
Twenty tigers saw their first action in tiger stadium including 12 true freshman.  Linebacker Deion Jones had a tackle for a loss and linebacker Kwon Alexander had a fumble recovery.
"We rushed for 300 and threw for close to 200 yards," LSU coach Les Miles said.  "Not too bad.  We put 40 points on a team.  It was kind of like offense, defense, and special teams had an opportunity to play dominant at times, but really had some sloppy plays."
Football Rolls Up 508 yards Total Offense